Roll Up Door Repair Staten Island
Roll Up Door Repair Staten Island NY
Whether it is a rolling gate repair, or a garage door repair in Staten Island, we can help you with that. We offer same day roll up door repair and installation service in Staten Island NY, and we will be happy to add you to our long list of satisfied customers, that contact us in the past, and got their roll up door repaired.
Roll Up Door Service Staten Island
One of the common mistakes people do, when it comes to roll up door repair, is ignoring a small problem, probably hoping it will go away by itself, or thinking that if the door is working now, there is no reason why it won't continue to work in the future. But this is wrong, and from many years of experience in the roll up dates and garage door repair in Staten Island, not only that the problem will not disappear, but it is more likely to get worst.
Let's assume that your garage door spring broke, and now your garage door is working with only one more spring instead of two. So now the motor, which is not supposed to do any lifting problem, need to do the lifting instead of the missing spring, and it is just a matter of time before the motor will burn. Now, if you would of contact a garage door company in Staten Island to replace the broken spring on time, instead of just ignoring it, you would of save the money which now you must spend for a new motor.
Roll Up Door Maintenance
We would like it clear, every overhead door, whether it is a rolling gate in NYC, or garage door in Staten Island, need to maintained, preferably every 6 months. Do not look at the maintenance as a waste of money, since the door is already working. Just like you will never ignore the need of your car for oil change and tune up, so does your roll up gate need to be maintained.
Beside the maintenance process itself, the maintenance give the technician an opportunity to inspect the roll up door, and to locate broken, lose or damaged parts, and to repair or replace them. A professional maintenance will improve the way your roll up door work, protect the parts and the motor, and will extend the life years of your door or gate.
Commercial Overhead Door Staten Island
A commercial Overhead door, which is not working in a perfect way, whether the motor broke, the spring snapped, it is out of track or any other problem, that prevent it from working in a smooth way that every commercial garage door should work, is dangerous, and should not be used. The Commercial Overhead Door, which can get to weights of hundreds of pounds, is supported by the spring system, that make it easy to use, and one of the spring break, the balance of the door is also break, and a misuse of the door can lead to serious injuries.
Automated Roll Up Door Staten Island
As we mentioned before, it may seem to you that the reason for the roll up door problem is due to a motor problem, when actually the problem is in the door mechanism or a damaged part. If it is an Overhead garage door, then you should know that most of the raising and gently lowering the door is being done by the spring system, and not by the motor. When you look at the moving door, it is easy to mistake, and to think that the motor is what holding the door, and make it easy to lift doors that weight hundreds of pounds, when actually the spring system, whether it is torsion or extension springs which in charge of the lifting.
Whether you have a Lift Master opener, or any other kind of opener, please do not attempt to try and fix it yourself, since by doing that you may cause 2 things: You may cause a bugger damage, and you can injure yourself, or others who use the door.
Do It Yourself Roll Up Door Repair
Today, when the virtual world is full of do it yourself garage door repair Videos, it easy to think that everyone, with a basic toll box can repair anything. But, and this is the important part, what they don't tell you, is that every roll up door, garage door, or rolling gate is unique, and require different parts and knowledge. If you don't fully understand the mechanism of the door you are trying to fix, and if you are not fully aware of the forces and the tremendous power that a lose Overhead door may have, we suggest that you will consider contacting a trained technician to do the repair for you.
We will end with a short anecdote about a do it yourself garage door repair. We got a call from a terrified woman in Brooklyn, which told us that her father tried to repair he's garage door by himself, based on a you-tube Video he watched, and accidently locked himself inside the garage.
Warning!! A broken roll up door can be dangerous, and can lead to serious injuries. If there is something wrong with your roll up door, we highly recommend you to avoid using it, and contact someone who repair roll up gates in New York.
Of course that we left everything and rushed there. When we got to the address we found an old man sitting on a box and waiting for us. Apparently he released the emergency release of the garage door motor, and since one of the springs was broken, the door crashed down locking hi, inside. Luckily no one was hurt, and he had he's cell phone with him. After we replaced the broken spring, and the door was working again, he thanked us, and swore that he will never try to repair things by himself.
So let the pro deal with the garage door problem, and avoid touching something which you are not sure what its purpose and why it is there.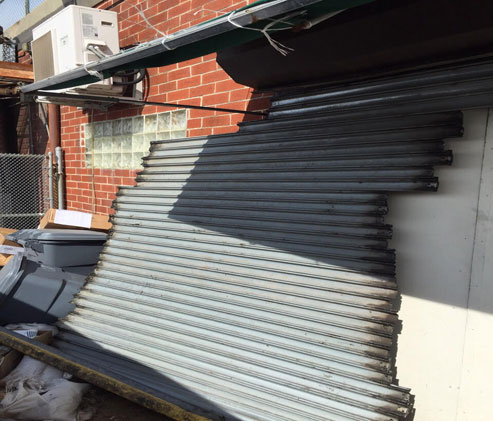 Garage door and roll up gates Staten Island NY
It happen a lot, when we receive calls from our customers in Staten Island, telling us that they are having hard time opening or closing their roll up door. The thing with roll up doors, is that there are many products that going under that category: It can be a garage door in Staten Island, it can be a rolling gate, it can be a roll down gate, and it can be overhead door.  But there is no need to worry, Doctor Gate can fix all of them. Like we said many times in the past, we are professionals, and as such, we need to be able to answer all our customer's needs, whether it is a roll up gate, a rolling door, a commercial rolling gate or more.
When you need a garage door contractor in Staten Island, or a roll up gate repairman, you do not need to think "Who repair garage doors and gates in Staten Island"? Because you just find exactly what you are looking for. With our same day service, there is no roll up door in Staten Island New York that we won't be able to repair. But as we said, the important thing will be to stop trying and use the door, until we will come, because forcing a roll up gate to work, whether it is a roll up gate in Staten Island or rolling gate in Manhattan New York is dangerous, and can lead to serious injuries.
Roll Up Gate problems Staten Islnad
Many times when roll up gate get stuck, people tend to think that if they will only "help" the gate to open, by pushing it using force, the gate will work again. What they don't know is that pushing a broken roll up gate in NYC is a big mistake that can easily end with injuries. There is a reason why a roll up gate get stuck, and it doesn't matter if it is a roll up door in Staten Island, or out of tracks roll up gates in Brooklyn.
Maybe the roll gate spring snapped, maybe the gate operator is dead or need repairs, but no matter what the problem is, using force will not solve the problem. We have seen roll up gates disconnect from the spring and crush, we have seen gates that all they need was someone to reset the operator. But we have never seen a roll up gate in Staten Island, that just forcing the gate to work using excessive force made the gate work again and the problem to disappear. Keep in mind that the way roll up gates in Staten island are built, are with a spring that makes it easier to open the gate, even when using it manually, or keep the gate in open position. And when the roll up gate is too old, or if the roll up gate's spring is weak, there is nothing to support the gate.
Roll Up Gate Repair case study
When someone call Doctor Gate of NYC, HE KNOW THAT WE WILL BE THERE FOR HIM SOON. Whether he need a roll up gate repair in NYC, or a rolling gate repairs in Staten Island, we can help, and we will do that today. So we would like to share a story with you:
We received a call from a customer in Staten Island who complained that the store front gate is stuck. We instructed him to not try and use the gate, and that we will send someone within an hour, and that we have 45$ service call for emergency repair after 9PM. He answered that he is willing to pay 45$ for the repair, and we told him that it is very rare that we fix roll up gate in Staten Island for that amount. He cancelled the work, and we thanked him.
The same person call us at 1AM again, begging us to come and help him, since his gate crushed. We told him that now the service call will be double, and he said that he doesn't care, and that all he wants is us to fix the gate. Since he is located in Staten Island, we could be there in 20 minutes. When we arrived, we learned that he and 2 of his friends jumped on the gate trying to close it, and the gate disconnected from the spring and crushed. We have provided many roll up doors repairs service in Staten Island, but this one was one we couldn't even repair, and he needed to replace the whole gate, since the slats the spring and even the bottom bar were damaged badly, that fixing the gate could cost him more than repairing the gate.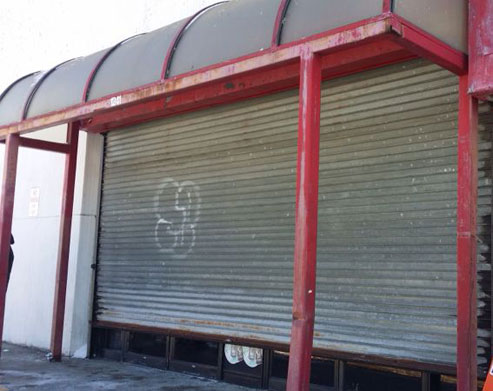 Roll Up Gate Operator Repair Staten
Not every roll up door in Staten Island need to be motorized. Some store front gates are being opened and closed one a day, and for that there is no necessity for an operator. But some roll up gates in Staten Island are being used multiple times every day, and they need a roll up gate operator. The important thing is not to use the gate if there is something wrong with the operator, and call roll up gate expert in Staten Island to fix the gate or the operator for you.
We said it before, and we will repeat it again and again, because it is enough that we will prevent one person in Staten Island from getting hurt, and it is worth for us: A broken roll up gate should noy be used. It can be a roll up gate in Staten Island, or a broken roll up gate in Nyack New York. Broken roll up gate can be dangerous, and should be service by experienced roll up gate repairman in Staten Island.
Doctor Gate of NYC offer same day roll up gate repairs in Staten Island New York, and we can fix any roll up gate or overhead door in Staten Island. It can be a commercial rolling gate, a store front gate repair, or a commercial overhead door repair, we can fix it.
Our Roll Up And Garage Door Service in Staten Island
Same day garage door repair Staten Island.
Same day roll up gate repair Staten Island.
Electric garage door repair Staten Island.
Roll up gate/door maintenance Staten Island.
24-7 Emergency repair service Staten Island.
Commercial Garage Door Staten Island.